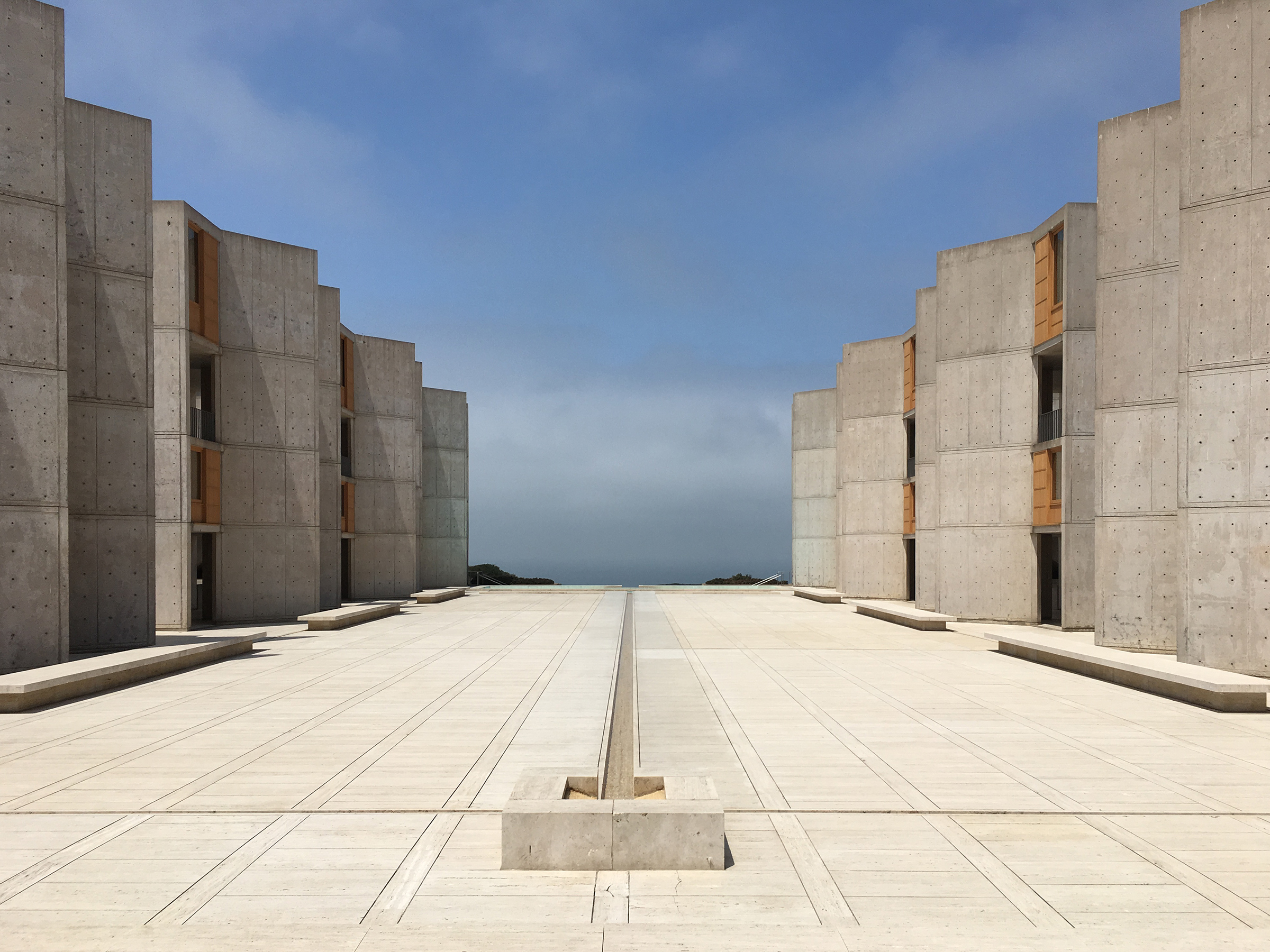 Insights
Salk Institute for Biological Studies in La Jolla, California
Architecture of knowledge #1
Evert Ypma
The architecture of knowledge — Designed by Louis Kahn and completed in 1965, the Salk Institute for Biological Studies in La Jolla, California, was intended to be a space for ground­breaking research in the biological sciences. Today, it remains a landmark of architectural and scientific significance. The modernist architec­tural design still functions as a contemporary sanc­tuary for knowledge production.
In 1957, Jonas Salk, the developer of the polio vaccine, envisioned a research center that would foster collaboration among scientists, enabling them to delve into the fundamental principles of life. The place inspires researchers to interact with peers and to create new perspectives which they pursue further in the Salk Institute's serene study environment outlooking the pacific.
Since its foundation the institute has a long history of revolutionary discoveries that advan­ced bio­medi­cal research and which has been beneficial for society at large.
Institution:

Salk Institute for Biological Studies

Location:

La Jolla, San Diego, California, U.S.

Program:

Research lab

Year:

1962–1965

Architect:

Louis Kahn and Jack MacAllister (supervising architect)

Commissioner:

Jonas Salk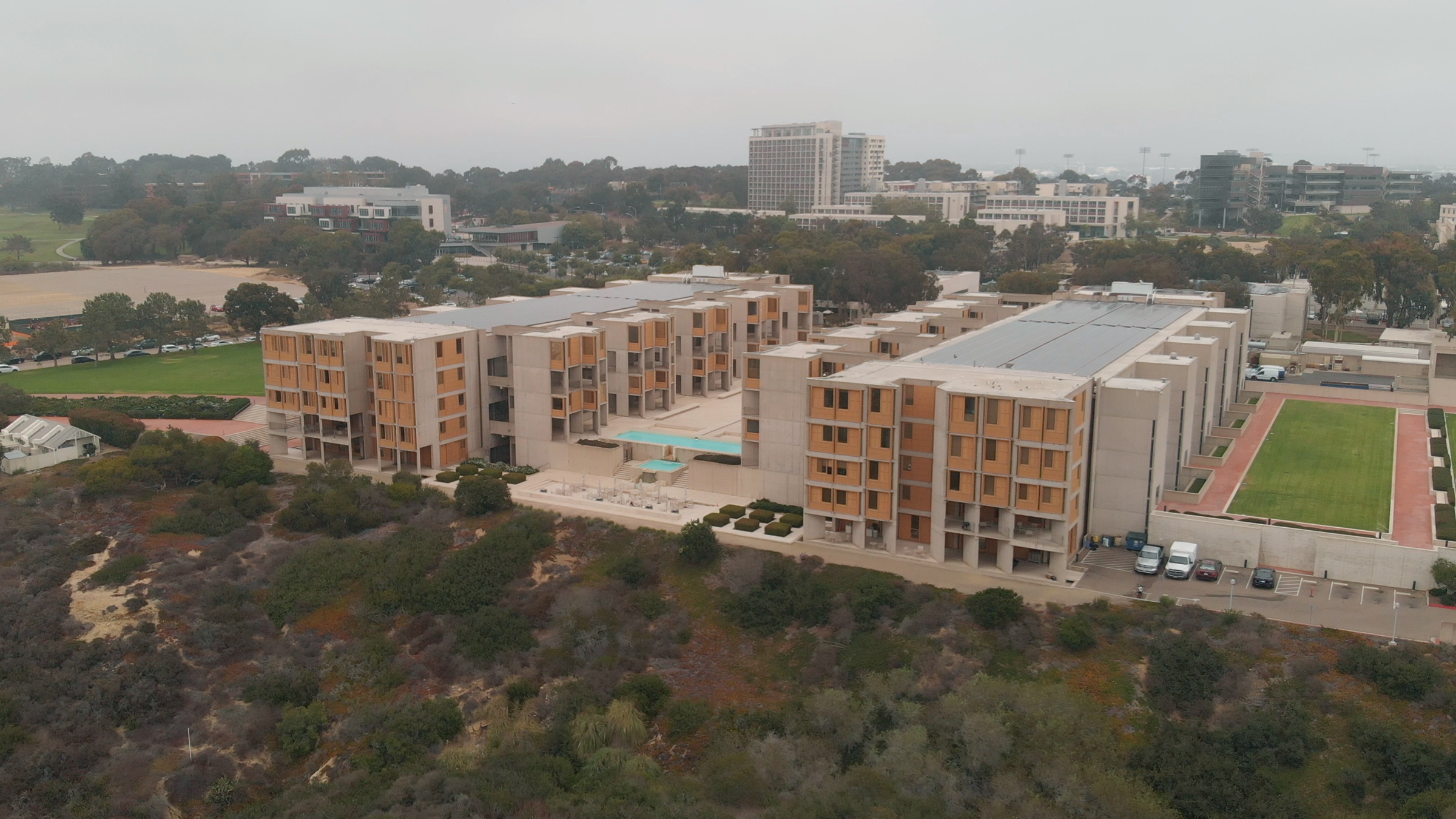 Salk Institute for Biological Studies
The independent, non-profit institute was founded in 1960 by Jonas Salk, the developer of the polio vaccine; among the founding consultants were Jacob Bronowski and Francis Crick, who played a crucial role in deciphering the helical structure of the DNA molecule.
The Salk Institute consistently ranks among the top institutions in the US in terms of research output and quality in the life sciences. Employing 850 researchers in 60 research groups the institute focuses its research in three areas: molecular biology and genetics, neurosciences and plant biology. Research topics include aging, cancer, diabetes, birth defects, Alzheimer's and Parkinson's disease and HIV.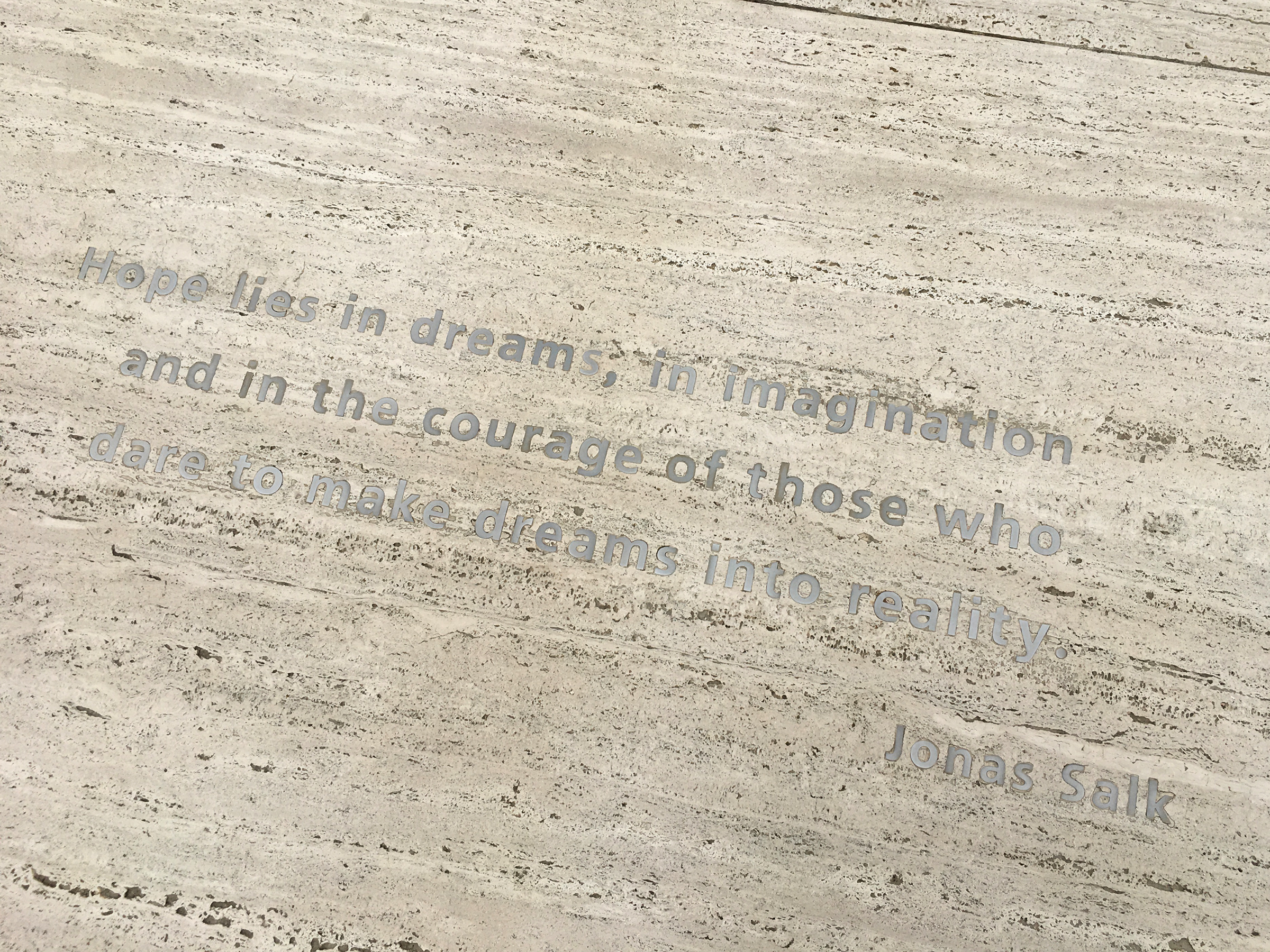 Hope lies in dreams, in imagination and in the courage of those who dare to make dreams into reality.

Jonas Salk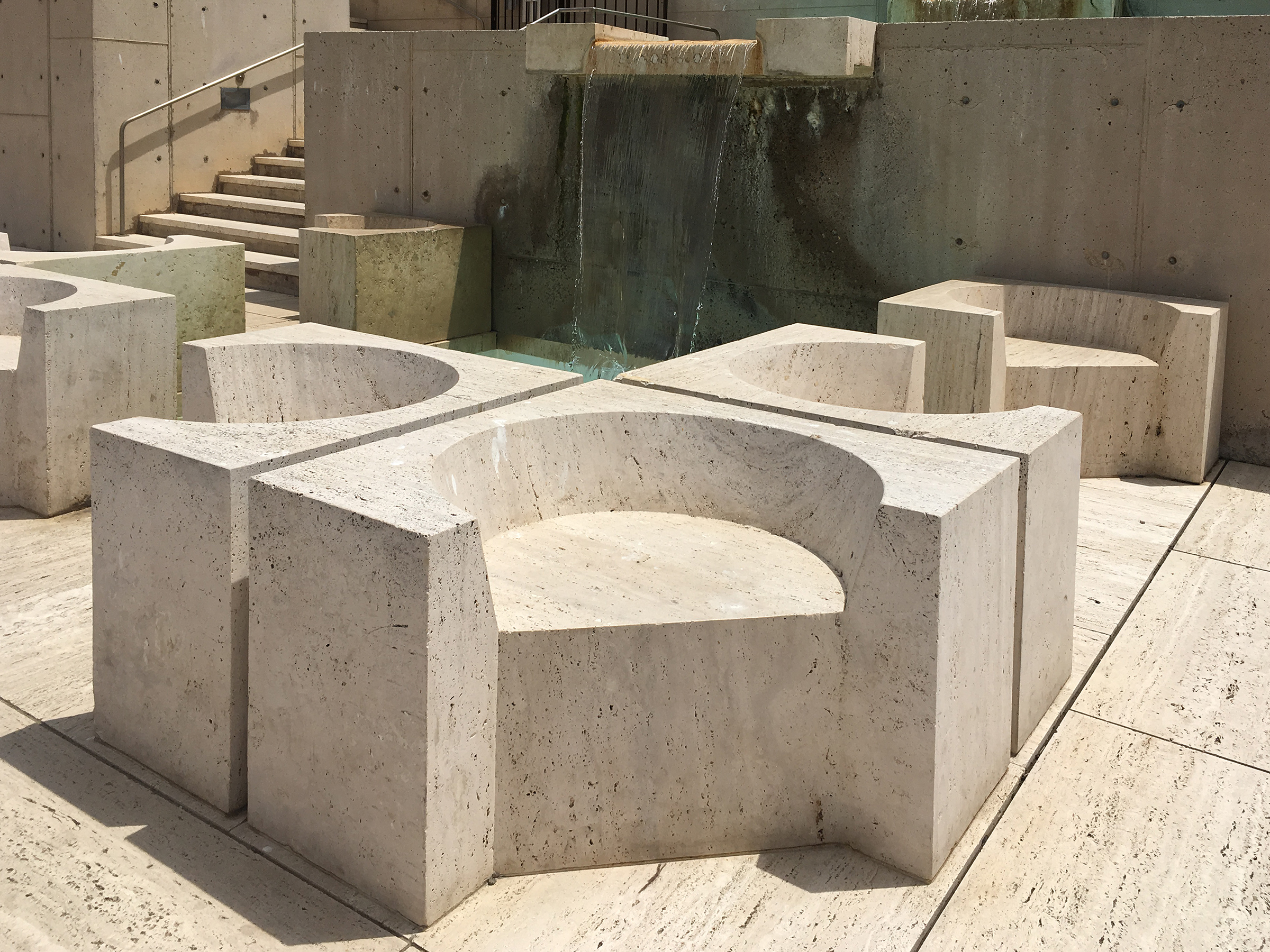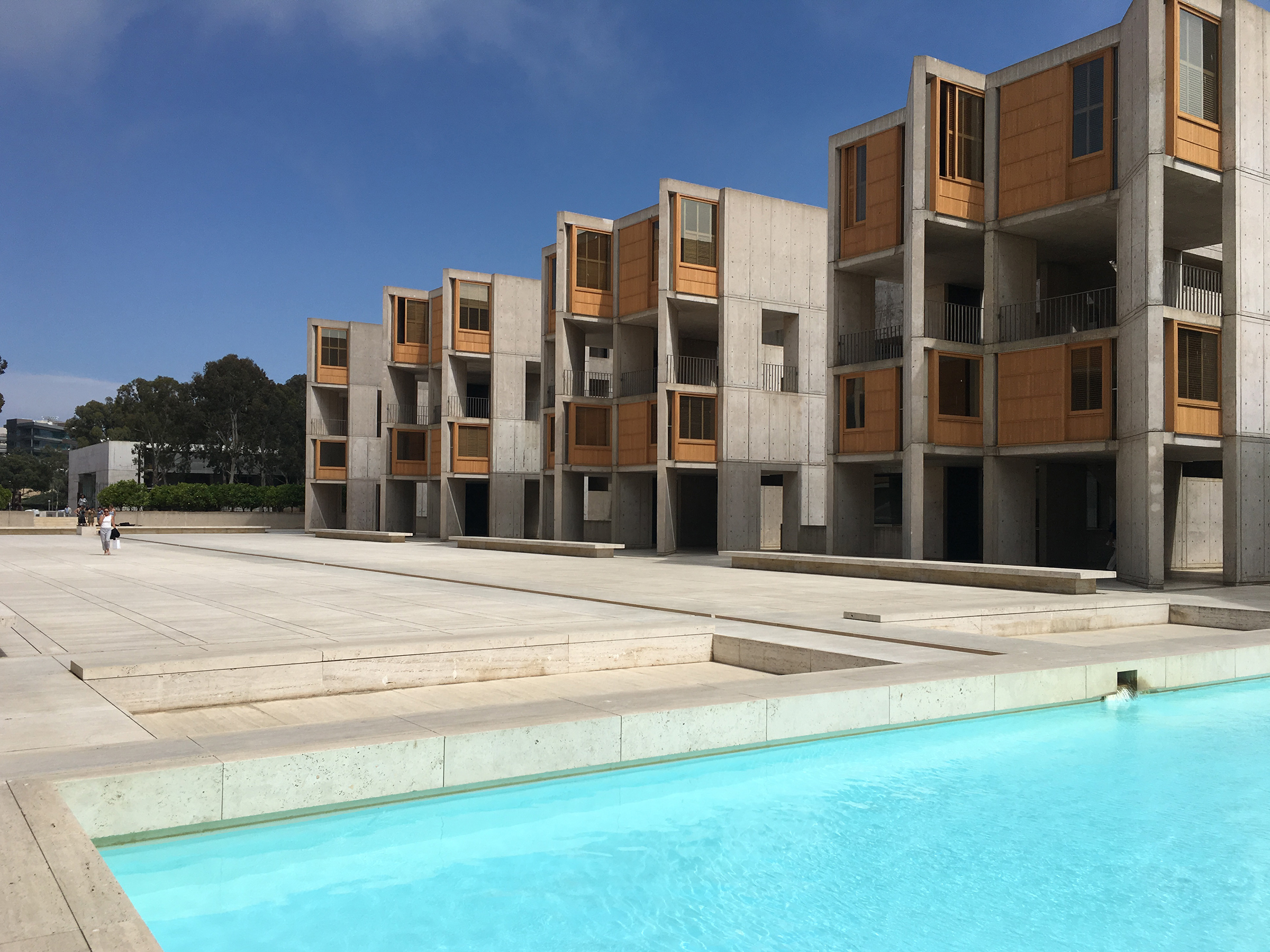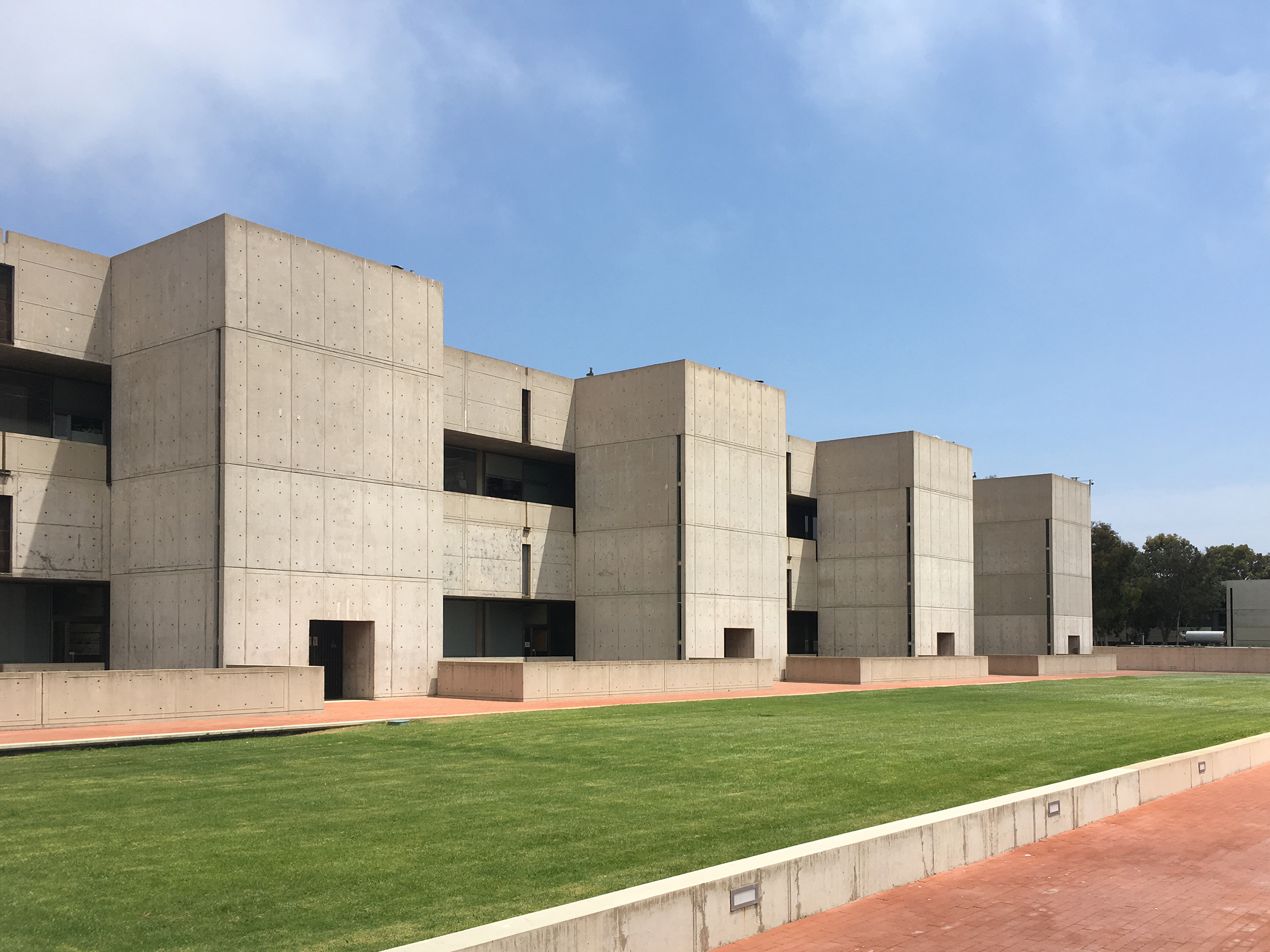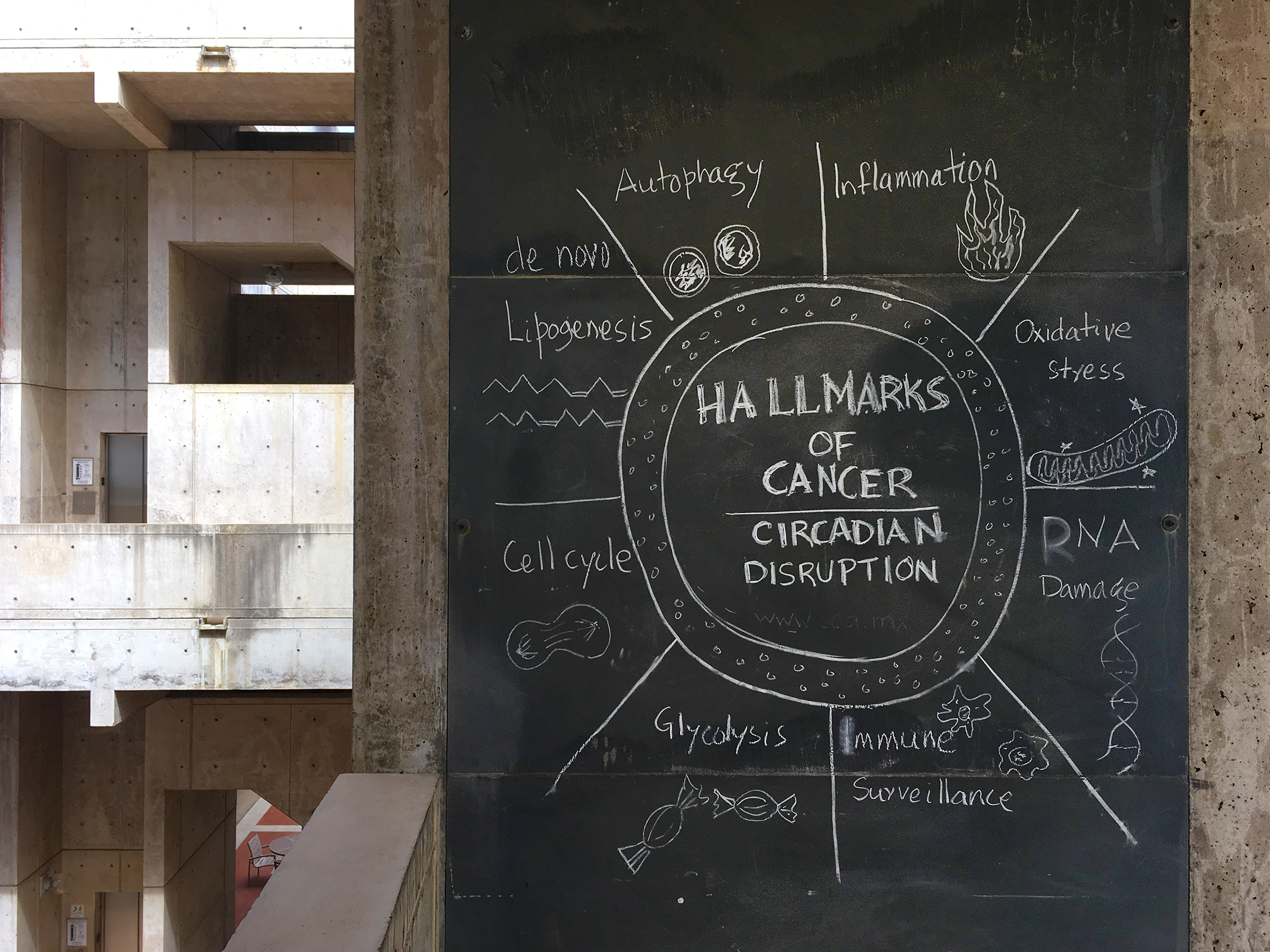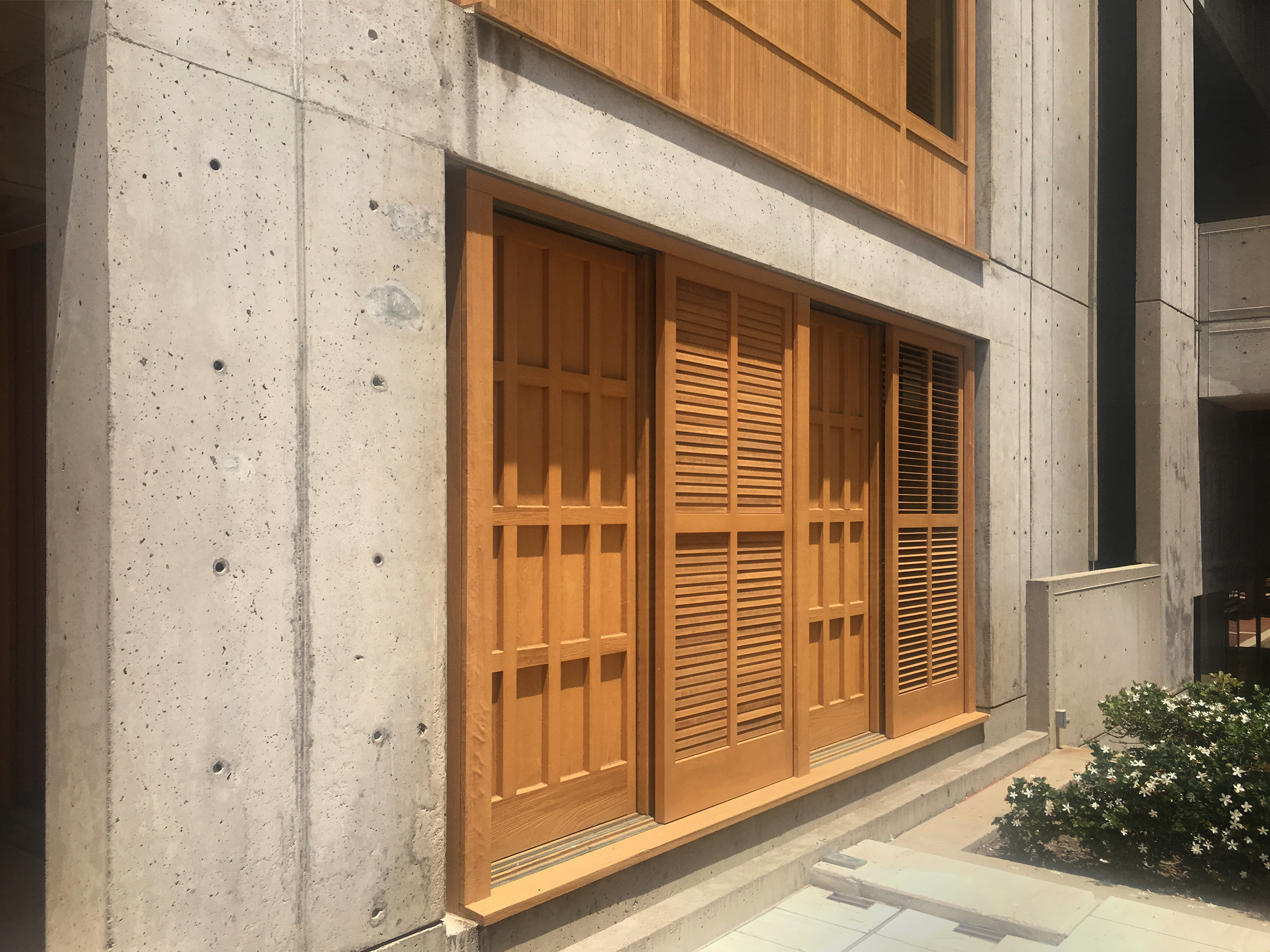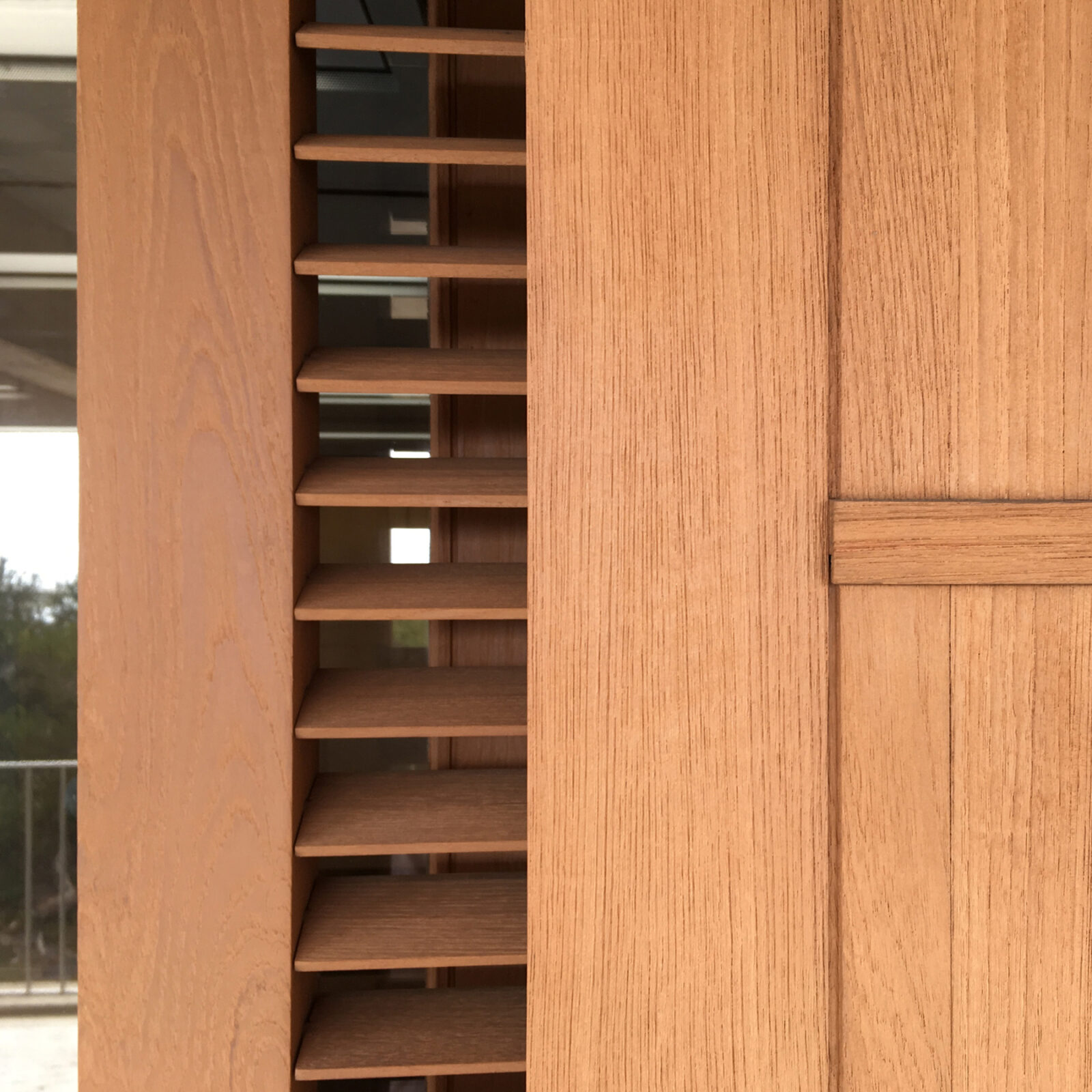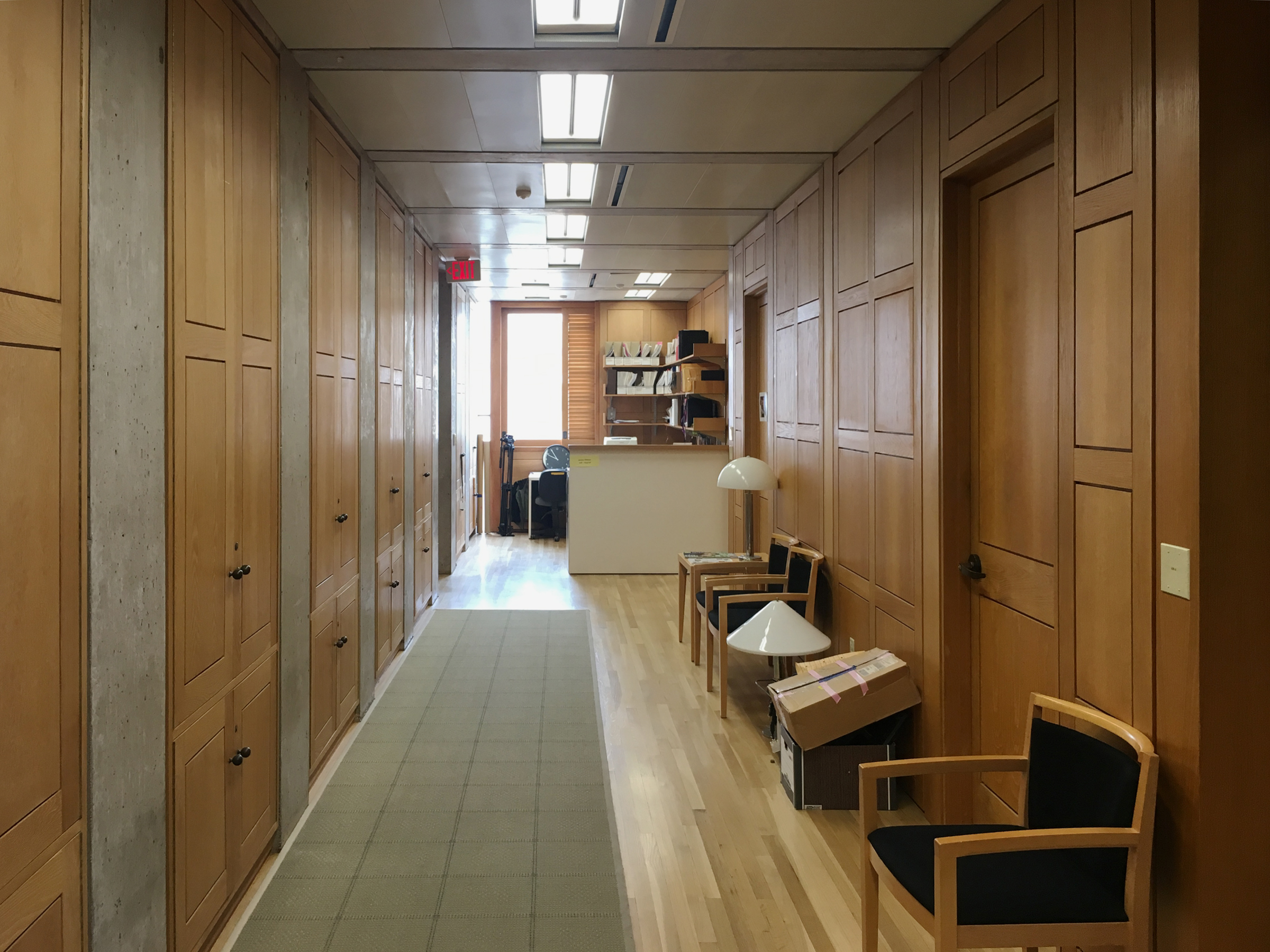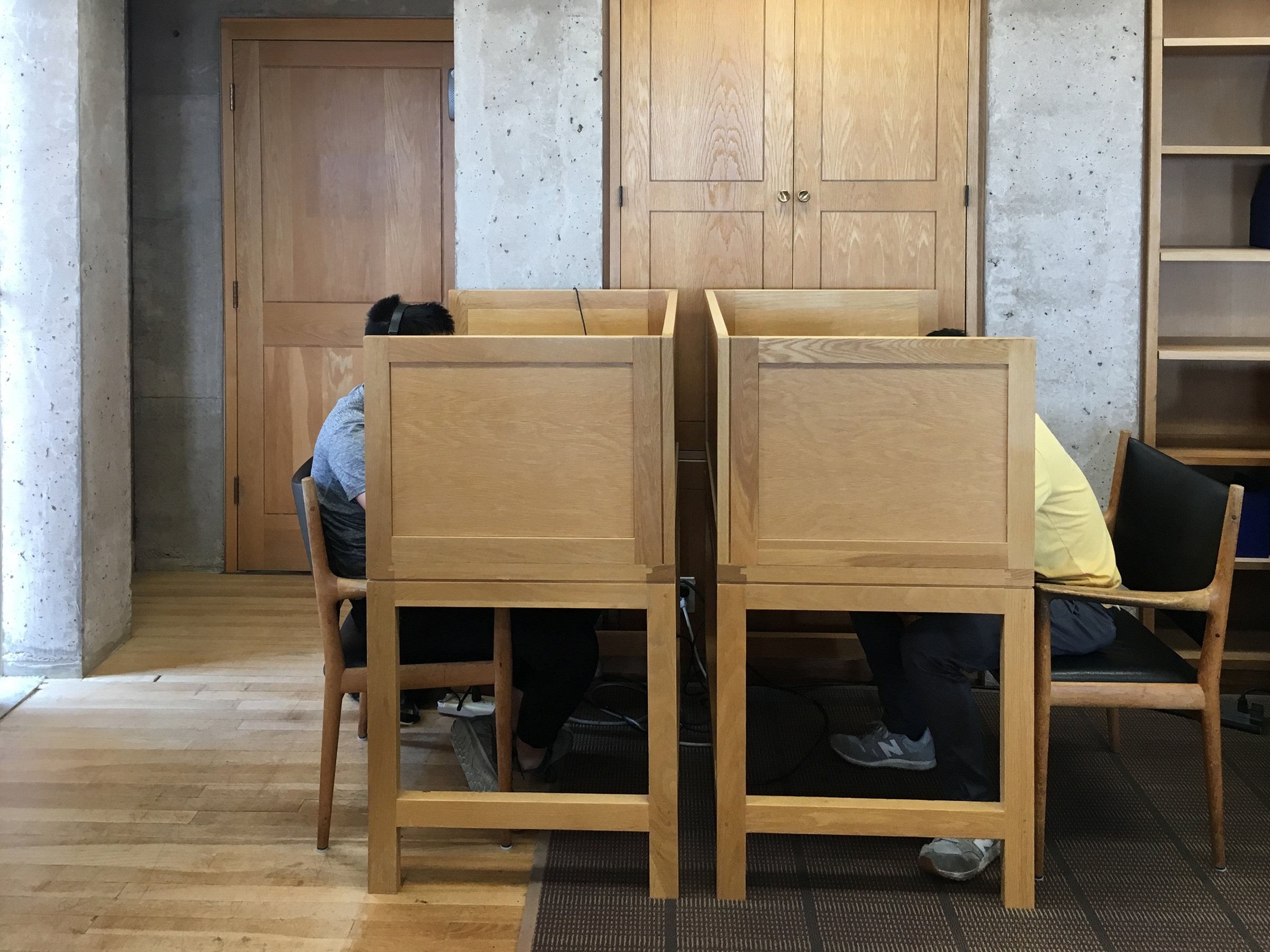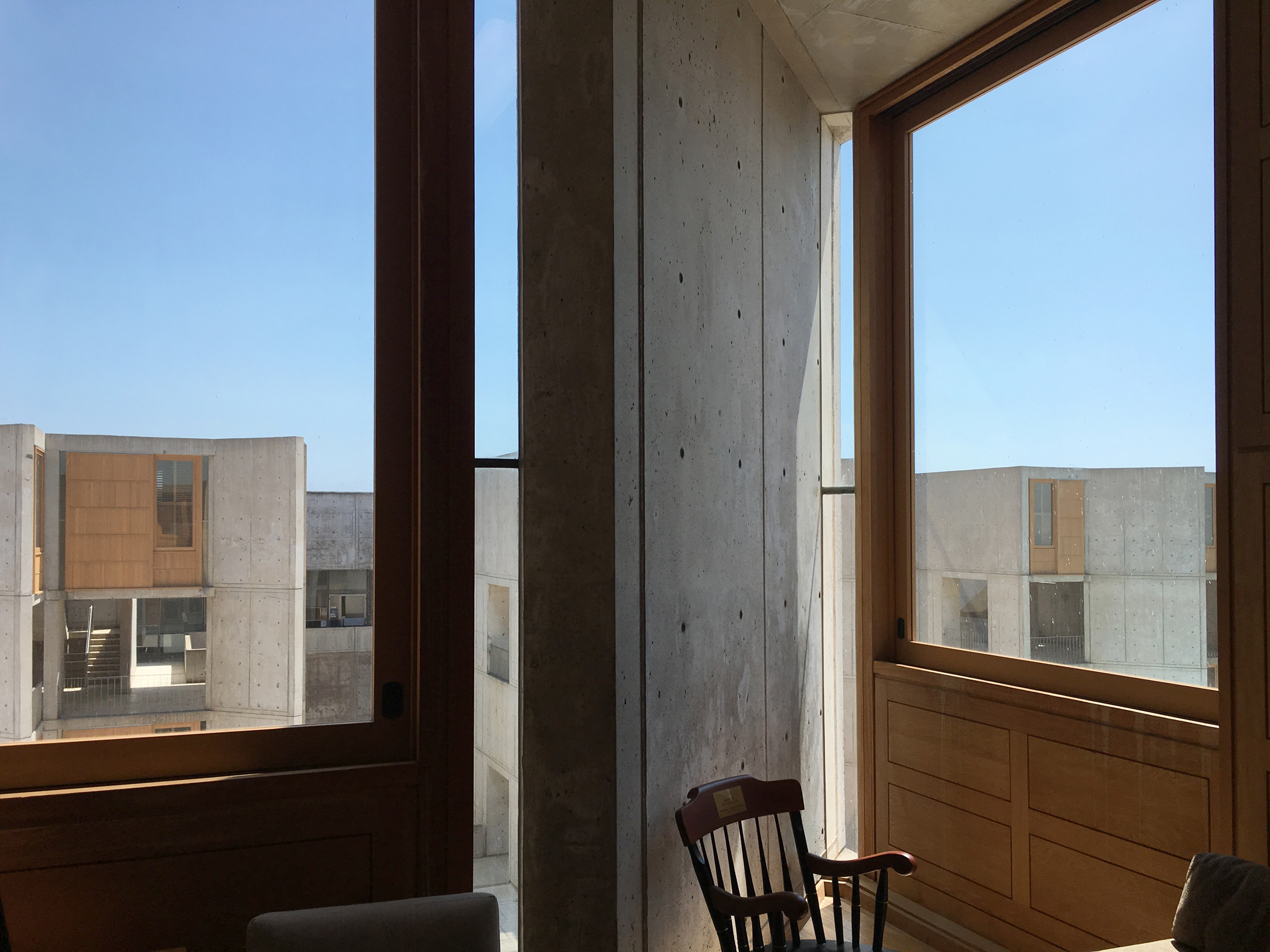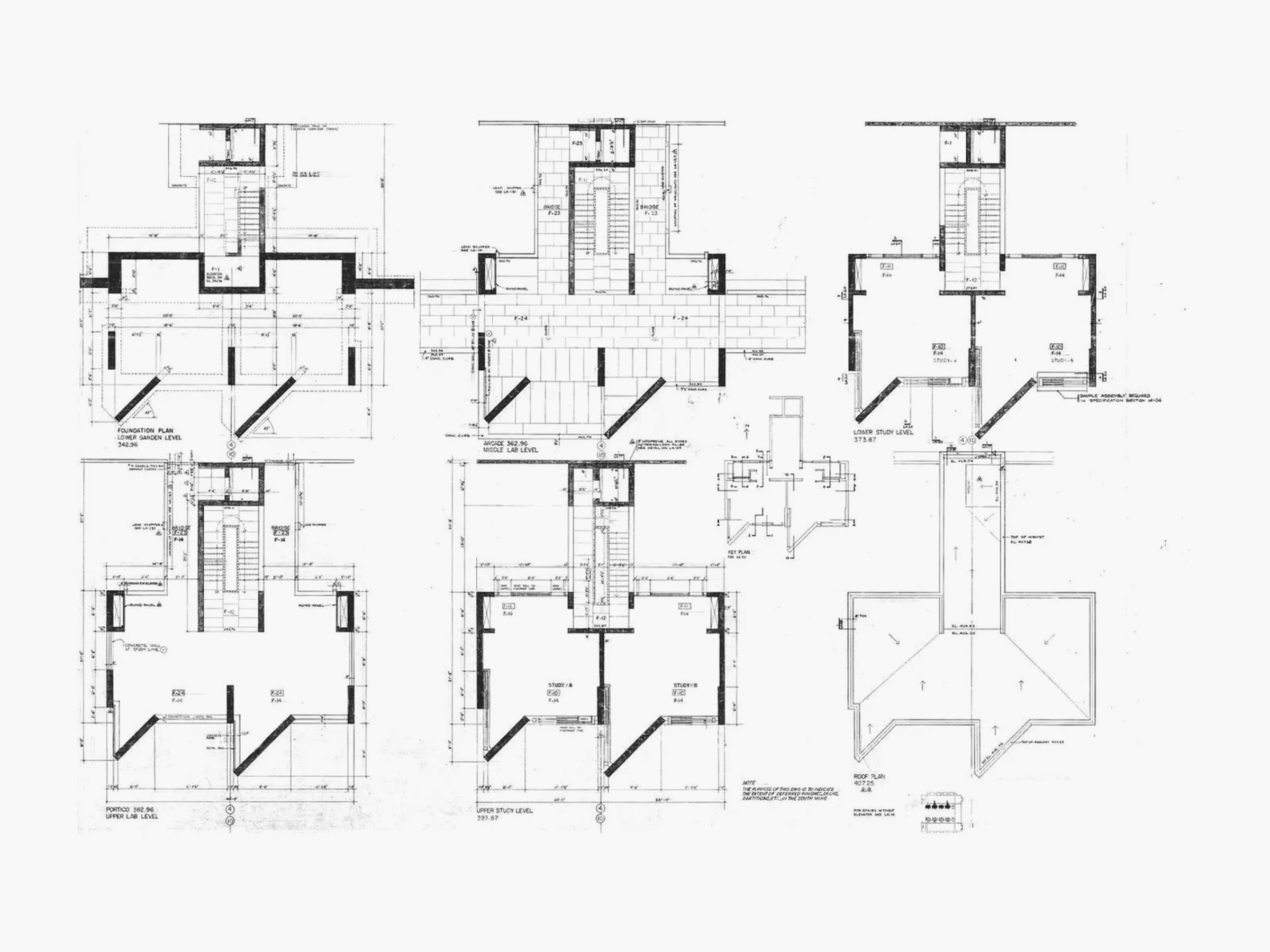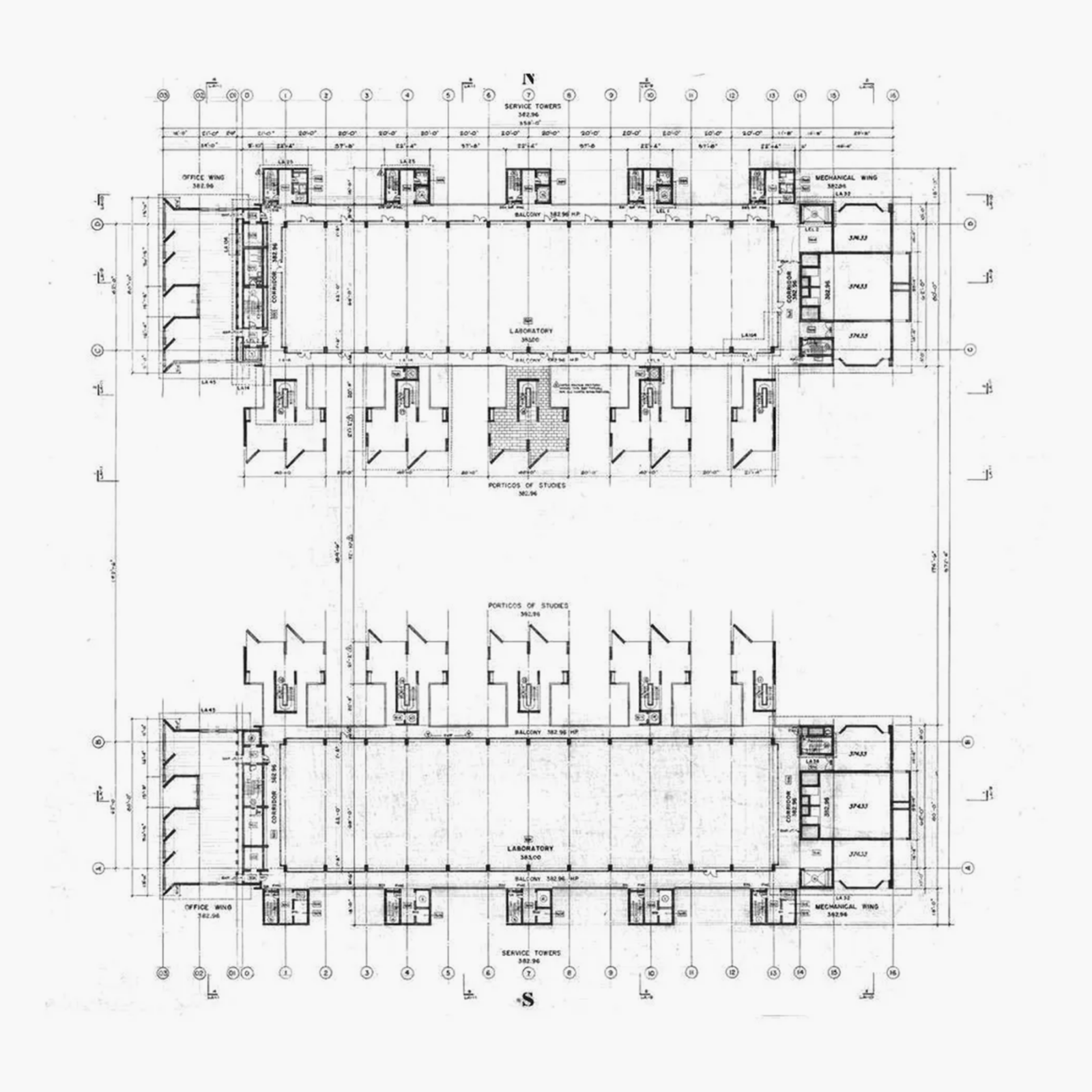 A sanctuary for science
The Salk Institute of Biological Studies was designed by architect Louis Kahn and commissioned by Jonas Salk N1 in 1960. The campus is located on a coastal bluff over­looking the Pacific Ocean and consists of two symmetrical wings of laboratory, study and office spaces surrounding a central plaza with a water stream flowing towards the ocean in the middle of the travertine-paved square. The exterior materials include concrete, teak, travertine, glass, lead and steel.
Each laboratory block has five study towers with a diagonal wall that provides a view on the Pacific. Every study is fitted with a combi­nation of operable sliding and fixed glass panels in teak wood frames generating a warm and intimate atmosphere. The original design also included living quarters and a conference building, but they were never built.
The site's window walls express a human element and scale within the monumental structure and are significant within Kahn's larger body of work (see below). The design promotes collaboration with no walls sepa­rating laboratories and workspaces. Also, the glass facades and the continuous lighting rails through the building are reflecting the insti­tute's collaborative and open environ­ment for scientific discovery.
Although modernist in appearance, it is essentially an isolated compound for indivi­dual and synergetic study, not unlike monas­teries as sanctuaries for contemplation, and they are thought to have directly influ­enced Kahn in his design. The Salk Institute combines both functions: physical place and a research environment that represent the idea of Western civilisation's pursuit of truth through science.
Due to its coastal location, subject to the punishing rigors of a marine environment, the concrete and teak building had to be reno­vated. The conservation and renovation plan N2 executed between 2013–2017 by the Getty Conservation Institute and the Salk Institute aimed to preserve the original design intent and character of the iconic architecture while addressing the necessary upgrades for the safety, acces­sibility and functionality of the building.
---
Louis Kahn
Estonian-born American architect (1901–1974) from Philadelphia; design critic and professor of architecture at Yale School of Architecture (1947–1957).
Louis Kahn is known his monumental and mono­lithic architec­tural style visible in buil­dings such as Jatiyo Sangshad Bhaban, the National Assembly Building of Bangladesh (1962) in Dhaka, Bangladesh, the Yale Center for British Art (1969) in New Haven, U.S. N3, the Olivetti Underwood Factory (1970) in Harrisburg, Pennsylvania, U.S. and the Phillips Exeter Academy Library (1972) in Exeter, New Hampshire, U.S.
---
Field

Knowledge environment, Research lab

Location

La Jolla, San Diego, California, U.S.

Year

2018/ Edited 2022

Photography, film

Evert Ypma
Film sequence: Imagining Science/ HSLU film team 2018 in occasion of a film production about the NOMIS Center for Immunobiology and Microbial Pathogenesis at the Salk Institute.

More on the Architecture of Knowledge